Digital Space is the new place in this world. We all are living in it. Just look around you. There would be someone holding a phone in hand and browsing the internet. Facebook, Twitter, Instagram, snapchat and what not. Everything has taken up the empty space of a normal human being in this current generation. I Don't know where we are heading but I see that we are creating a new space where people are busy consuming biased content with baseless facts.
In all these combinations of content, videos, and information, I see some beautiful digital destinations that have come up with time, that I loved browsing. Though I spent some of my precious time in these places but guess what, we all spent time somewhere over the internet once or twice or thrice a day.
In this blog, I want to share the digital destinations that were my favourite place to hangout during childhood.
Orkut
Google shut this down. Fuck I don't want to google when they did this but I had memorable childhood using orkut. I used to talk to my schoolmates after we came back from school. Those days, internet was damn slow. I remember the speed used to be around 512kbps and I used to proudly tell to my friends over orkut that today I am having a super fast speed at home.
But still, with that speed also, I was able to play online games. Zapak.com was my best one. Now those games feels so childish but in childhood, we didn't even realized that we spent hours playing those silly car racing games.
A screenshot of my orkut email in 2009 below.

Skip orkut, the next one.
Webs.com
Now i am a digital consultant and I know webs.com is just a platform for me to build some web 2.0 backlinks. Lol. In childhood, around 2007, i created my first website as snehilprakash.webs.com I dont know why it doesn't works now. They deleted may be due to no activity. I also forgot the login ids. But, the curiosity of learning how to design website was built that time when I took it live.
Later I created another website on webs.com in 2009. I wanted to start my blog so I was checking out how to get started. I still have that onboarding email of 2009. 12 year old story. wow.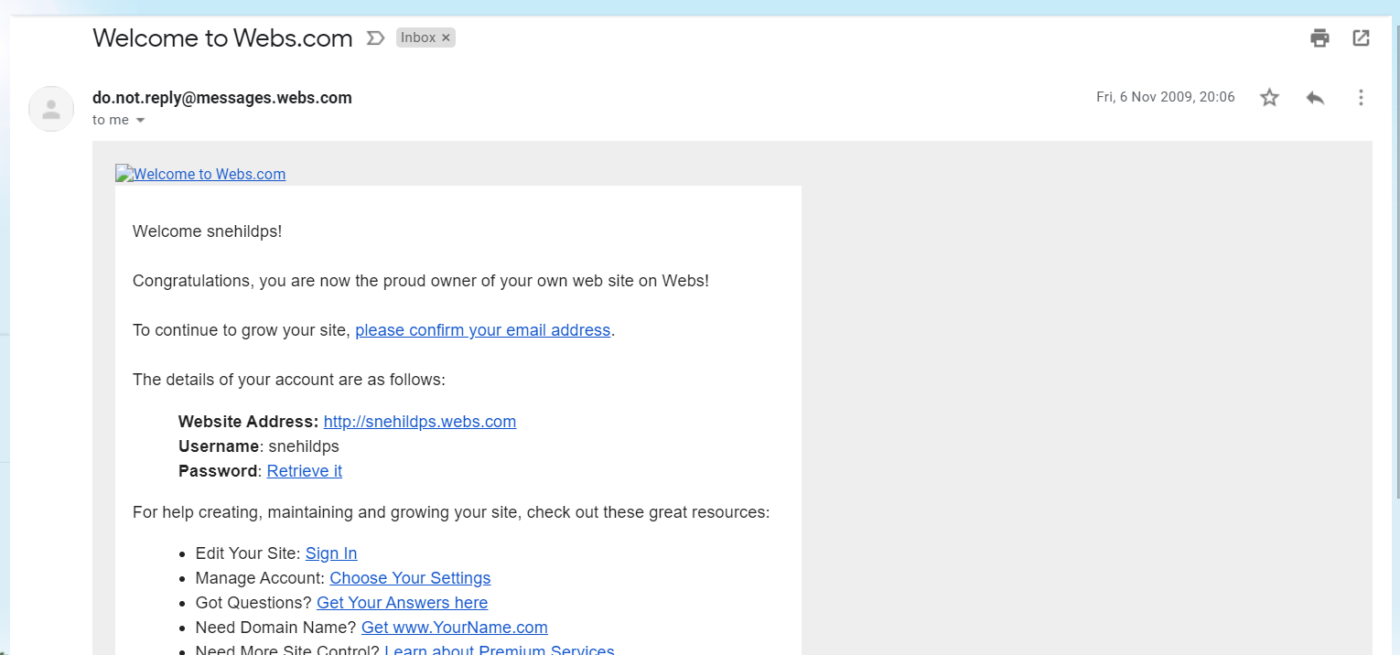 Zapak.com
My favourite destination of playing online game at a speed of 512 kbps. It still exist but during 2006-07, I used to download silly 2D games from zapak to play with them. I had deleted my old emails. But when I check 2009 email, I see zapak was pushing me newsletter consistently. That Time I didn't even thought that 10 years down the line. I would be crushing internet with my digital strategies.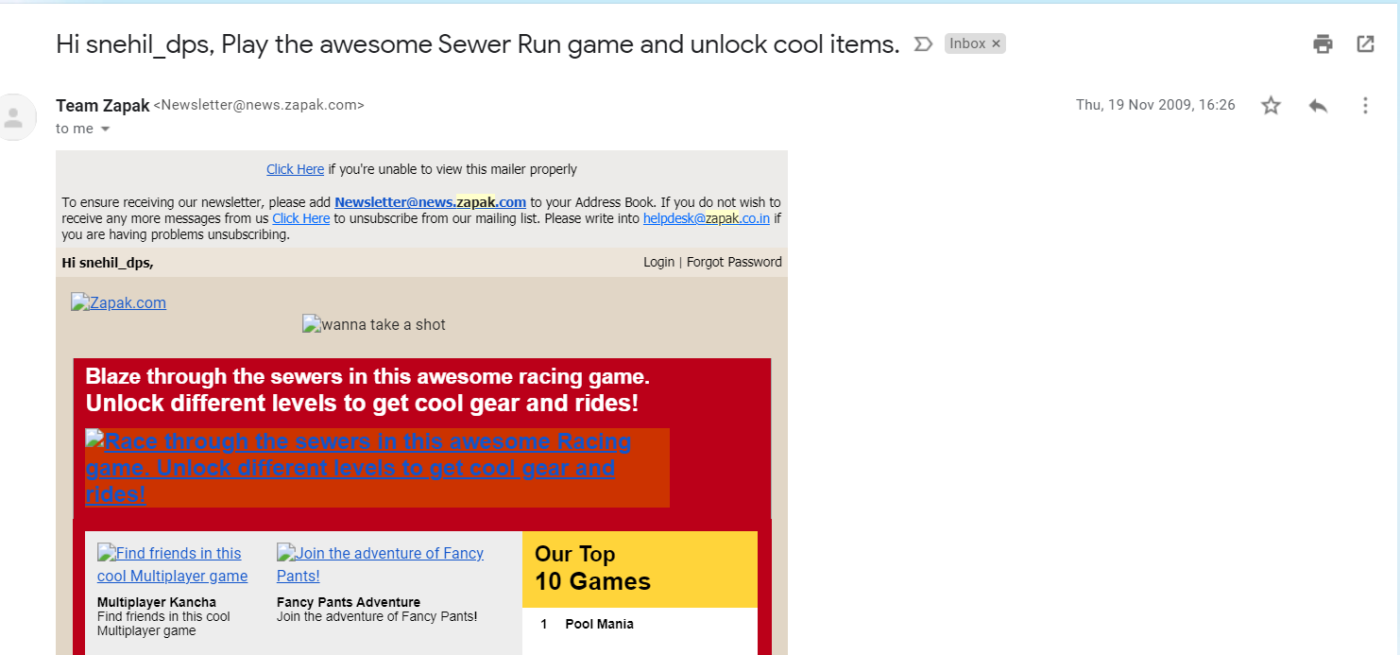 Funatoz.com
My favourite destination to download some super cool HD games. I remember, I downloaded Max Payne, Project IGI games from this website to my PC and enjoyed playing a lot.
I used to come back to this website to download every single games that were available on this website. I was a hard core game lover. I still want to play games but now the time seems limited.
Hi5.com
I was using it as an alternative to Orkut. That time Facebook was very new. I didn't had much friends using Facebook but they were on hi5 so i joined this platform and my childish mind was using this again to chat with same friends whom I was talking to, while we were at school. So much of free time we had during those days. Now all those friends don't even have time to say hi hello. 😀
I checked back my old email inbox and see Hi5 has been sending email to till 2020. But according to these emails, I believe hi5 is no more a clean website. It has more adult contents now.

The next destination
WAY2SMS
During 2007's the SMS industry was not cheap. Even calling was not cheap and also, not everyone owned a mobile handset. A decade later you see, its everywhere.
That time, I was using this website in 2007 to send jokes and other sms to my friends who had mobile phones.
I still see way2sms keeps sending me birthday greeting. Sharing a 2012 email from them which is sending me birthday wishes.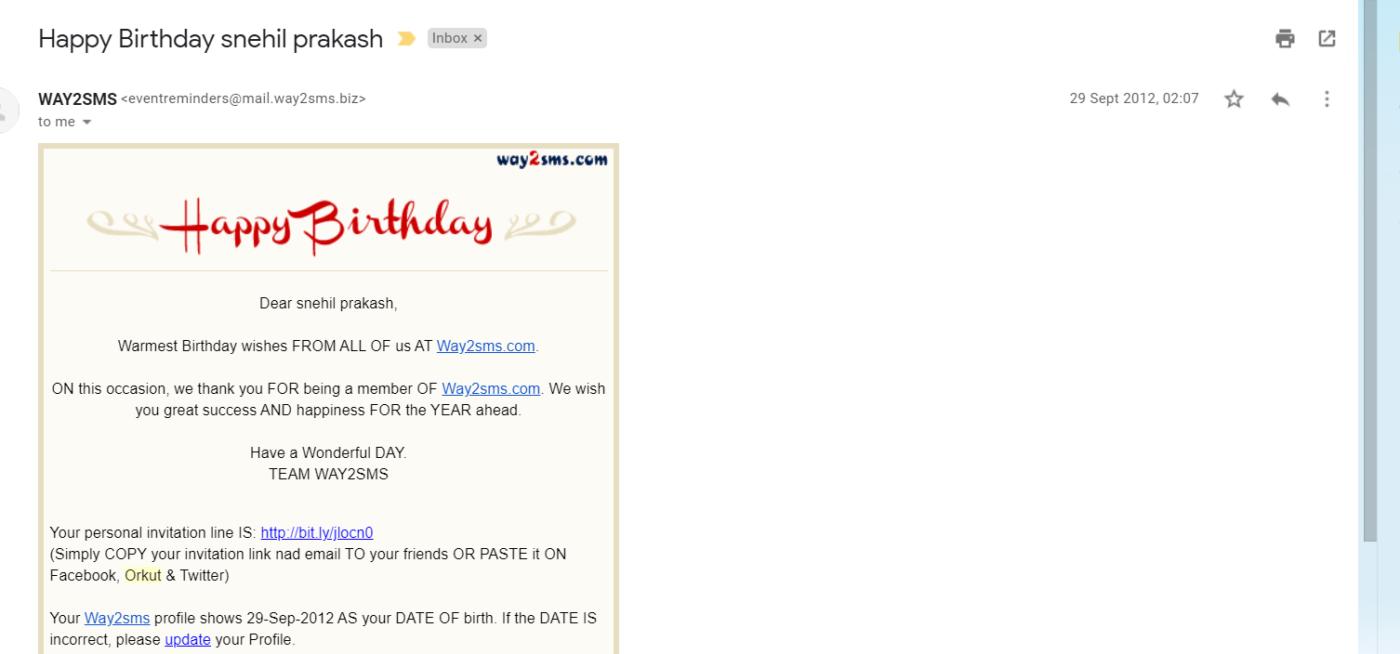 World has changed but Way2sms bots still pushing me birthday wishes.
Zamzar.com
I still use this website. I started using this website around 2007-08 when my father had to convert his documents from image, pdf to word file. I searched for a converted and found this website. It was a value adding tool for me in 2007 and it is still today.
An email copy screenshot of 2011 when I was in my engineering and trying to convert a PCB soldering document using zamzer.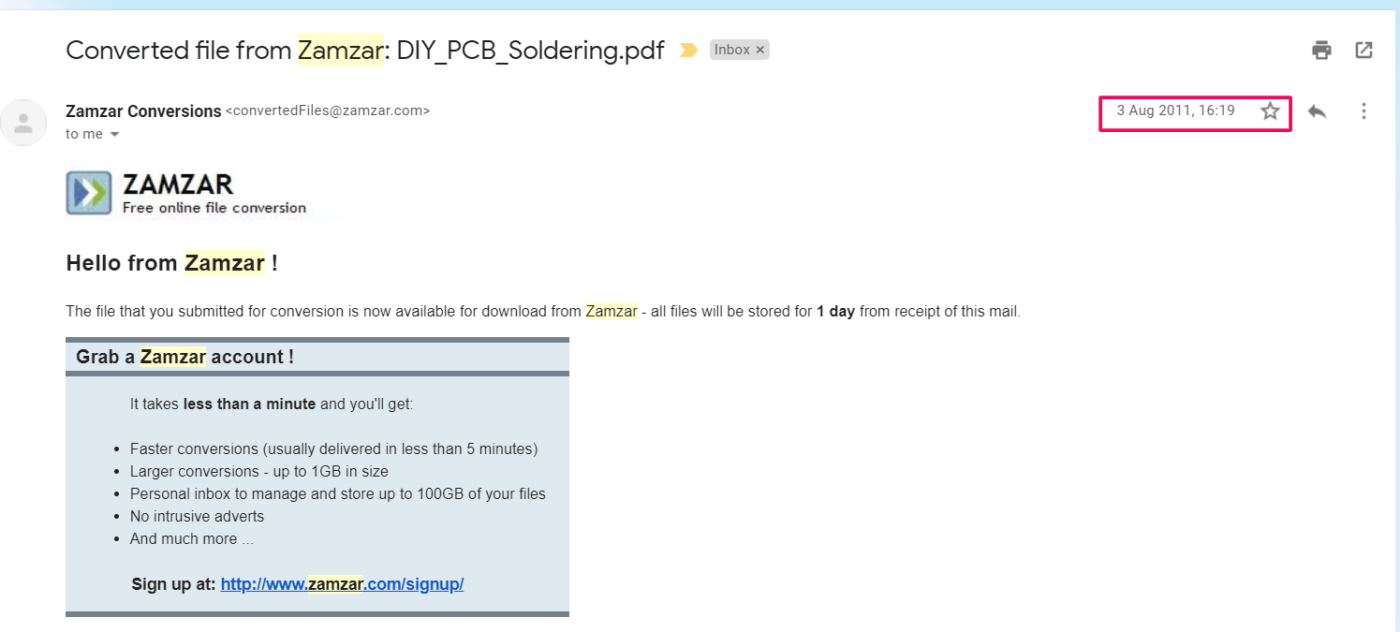 Final Thought
Internet is same dude. Its just that the advancement in technology is showing us a new form of websites and online tools. We are also very flexible in adapting. I still miss orkut, I miss yahoo search. I still use zamzar but I miss the 1st website that I created on webs.com
I only feel, time is passing too fast. It feels as if I used all these websites few days back but a decade has passed and I see the aging happening around me with my people and me as well.
Where will internet go? Will it destroy us or create a new space in this universe? God knows.